A New World - A New Way to ConnectHow virtual quizzes work & can benefit you & your people
We all know how our new reality has changed the way we work, the way we feel and how we live our lives. It has deeply changed each of us.
Operating online in both our personal lives and careers has become the norm—and as we move into a vastly different-looking future, this new way of interacting may be here to stay.
Of course, there are pros and cons to working online. As we adapted to run our quizzes virtually during lockdown, The Quiz Team quickly learned and welcomed some of the big advantages to working online.
Virtual quizzes: our ability to serve, entertain and delight people online
Many companies have come to us looking for a way to connect their isolated people.
We have had requests for:
team building
supporting connections
improving and enriching well-being and mental health
easy social time
boosting employee morale
challenging the old grey matter
simply getting people to laugh
Thankfully, a social event such as a virtual pub quiz can satisfy all of these goals.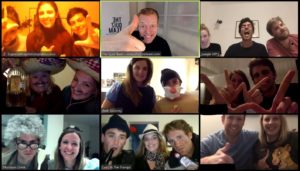 Another wonderful product of running quiz events online has been the ability to bring worldwide offices together, when in the past remote employees would have missed the "big London pub quiz."
Our clients have found without the need to book a venue and plan catering and the bar, they can shift more of the resources to online entertainment. Some have chosen to give employees a small amount of discretionary funds for food and drink at home, which has been a real hit!
Hilarious moments caught on camera during online pub quizzes
By now you have most likely seen videos of journalists on the news, interrupted when their young child steals the show. They are lovely moments—real-life moments.
We're seeing our personal and business lives coming closer together and are creating human connections that we never experienced before at the office.
Here are some of our favourite on-camera snippets that show how a virtual quiz can bring us together, make us laugh and shake our heads:
a cat walking at camera level across the table, tail gently swaying as it passes
the view of a bookshelf which either makes you think, "that person is very organized,"or, "wow, perhaps they could have tidied up a bit before going live!"
the sweet personal photos of families or holidays
beautiful artwork on show
kitchens to make us envious!
massive wine or beer glasses that should have little signs like "yep, I fit the whole lot in here!"
the person on mute gesticulating to their off-screen partner, making you wonder, "what are they talking about?"
the top of someone's head
We make online events easy for you
Our corporate clients have found planning a virtual quiz to be much less work than a regular in-person event, because there is simply less to do. This is another huge plus because, as you know….we are all busy people!
How can our team take even more off your plate?
we plan your quiz event, "booking" the Zoom meeting room and crafting the quiz guidelines invitations
we save you loads of time by creating and writing your quiz, and determining the best choice of general knowledge questions from what you share with us about your people (age range, where they are from)
we provide your professional, entertaining actor host
we guide you on best technology and running format choices that we know will work for your quiz event
The past months have been challenging, but they have also shown us bright new ways to interact in the online world.
We know that being behind a camera may not be the optimal way to connect with another human being, but it has proven to be a lifeline during trying times.
With an online quiz, it can also be an incredibly fun teambuilding experience.
Do you want to know more about how we can connect your people and save you time through a virtual quiz?
Our tested and proven format during the pandemic will give you the reassurance that your event will be enjoyed by all and run smoothly.